The last couple of days have been a blur of activity and not nearly as much sleep as I would like to have, but have fun or have sleep...or have fun sleeping I guess. On this trip though I'll just have to sleep when I'm dead because I'll leave here Wednesday to go home work 2 days then come back to see my friends for one more weekend. Jim if you read this I'll bring you back a souvenir in exchange for leaving early next Friday. *wink*
The previous statement in no way was a bribe. lol. So on with the recap.
So as you read on Thursday my trip started off with a bang having my O2 sensor go out and causing a two hour layover while I had it repaired. Good times, at least the best circumstances surrounded a bad situation and I was able to get back on the road quickly. That night check in was late and the next morning came early for it was opening day for Star Wars Weekends as well as Star Tours the Saga Continues. It is technically a prequel but we will not go into the continuity issues and just focus on the fact the 3D that is being used was the most vivid and real as seeing in everyday life. As a matter of fact nothing in real life looks that good so now regular vision is kind of a let down.
The opening day hoopla was impressive so I understand. In a fit of failure that is beginning to sum up my Friday morning, I misread the schedule of events and missed the festivities, however I was in the line for merchandise and able to get a couple of exclusive pins that were sold out by the end of the day. In that respect I won, but I missed seeing George Lucas on stage giving his blessing to Disney for all the hard work that goes into Star Wars Weekends and Star Tours.
The fun was shared by meeting up with the Startours2live.com and Studiocentral.com crew as well as other bloggers and friends. Twitter brings people together and destroys 3rd world countries (not really but it has great power for some reason). Oh the social media gatherings are always so much fun. Here is just one picture of it all.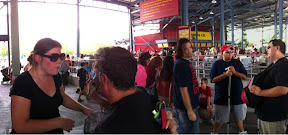 Friday was long but somehow Saturday was longer. I meet up with the WDW Radio fans to see Lou Mongello and all the other friends from the day before then a group of about 30 of us went to Momma Melrose for lunch. Fantastic.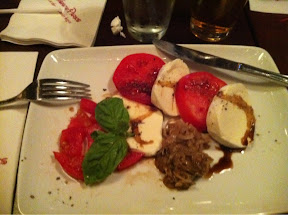 I'll go into detail later about how much I enjoyed lunch and having it with that many friends was incredibly entertaining. After lunch we did several activities as a group then ended the night at Hyperspace Hoopla a dance party type show with all you favorite characters. When I can get my pictures off my camera I'll be posting more about that show but I'll say one thing: Ewok dressed as Slash. My night was complete.
Now I am up and just being lazy meeting up with my friends Mary and Christa this afternoon at Epcot once Mary flys in. I dropped of some film at Walgreens and am right now having Breakfast at BabyCakes NYC at Downtown Disney just killing time. I will say though I am a new fan of it here. Is a Vegan bakery and the eats are great.
Pictured are a vanilla cake crumble donut and a cinnamon roll. They worked for me and bonus they took a DVC discount. Discounts make everything better.
Before I go out and play a little more today I wanted to say thank you to Kelly from Travelwiththemagic.com for helping me book my trip this go 'round and for all the advice she has lent me for October. Kelly I'll be in-touch with you soon about all that. Thanks again.
- Posted by Ridge using BlogPress from my iPhone